The second weekend was over, and behind me were  two lovely lunches with caring friends, Saturday at Fundamentals with Ellen, my neighbor and former spin friend from YAS, and Sunday, at Vespaio, with Rob, my fellow-theatre buddy which was followed by a visit to MOCA to see the exhibit, One Day at A Time, Termite Art.
This exhibit was particularly useful now. It featured the work of Artist and Cinema Professor Manny Farber, who created the term"Termite Art" to describe art that isn't an identifiable stylistic school  focusing instead on the quotidian objects that shape our perceptions of our lives. It reminded me of the 17thcentury Memento Mori paintings, not at all stylistically, but metaphorically.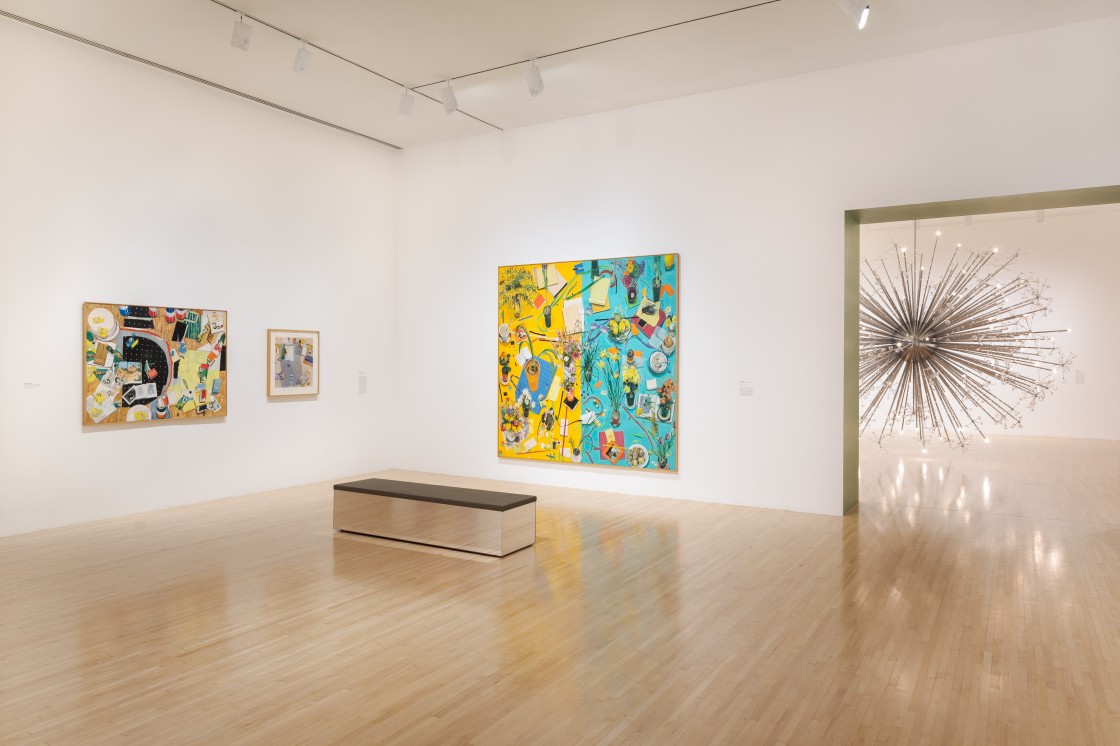 Farber tips his 21st Century table tops up so they become flattened surfaces, but persists with three dimensionality in his objects. They aren't as clear as the painting below in their meaning, but function as a visual blog of sorts, and not specifically about "live now because tomorrow we die" messages, but live now because we live now as unique and creative  individuals.
This was an impactful and timely message for me to hear now, only a few days after the death of my husband.
"Farber championed art that was committed to observation, deep attention, and the unique temporalities of the quotidian. In his words, the production of termite art is a process of "journeying in which the artist seems to be ingesting both the material of his art and the outside world through horizontal coverage."
https://www.moca.org/exhibition/one-day-at-a-time-manny-farber-and-termite-art
Last Monday's "unique temporalities of the quotidien" was the disposal of dead flowers. I had received so many beautiful floral arrangements, and they had begun to leer grotesquely at me, challenging me to disassemble them and rearrange the leftover flowers into something that will last a few more days.
Emotionally this is what I'm doing as well. Reassembling my heart and life into something that will last a few more days, weeks, months, years, decades, hopefully.
The task mundane, the smell redolent, I trimmed away the lilies, their faded flowers cascading into the sink, next the roses, buying more time with their sympathies and the beauty of their arrangements.
While I did this task, I wondered what my "tabletop" would look like now. Scattered documents from the Neptune Society, SAG-AFTRA, MisterRodgers USPS forever stamps and thank-you-for-your-thoughtfulness cards, an appointment card for Jimmie's podiatrist whom I haven't yet called to give the news, my checkbook, a typed list I've ironically entitled "The Hereafter List"on the table, my South African ceramic mug filled with chilling tea and milk. No dead birds, a theme of Manny Farber's table tops, but that day, I wore the hummingbird earrings thoughtfully sent to me by my stepmother last Christmas, a talisman of our shared enthusiasm.
Over the past two weeks, I've heard from the many widows and widowers in my life, and they may not have any idea of how greedily I've drunk in their words and metaphors for their journeys.


Somedays you are in the boat, and somedays you are under the boat. I've found that the less you resist, the quicker the wave swells pass.
I'm sure you have many people, family and friends to be with you at this difficult time. The tough time comes when they all go back to their separate lives, and you realize your best friend is gone.
I know this is inevitable. I have been on the giving side of that unintentional abandonment. I know it will suck, but her words are true and it helps to prepare for that moment.
Remember that you are alive. He is gone, but you are still alive.
Each of them has confessed: "I still talk to _______ every day."
I've been timid to speak to Jimmie, feeling foolish to hear the shaky cadence of my voice in the quietude of our once shared home. Sitting on the couch yesterday, I looked over to where Jimmie used to sit from my chaise end of the couch and said, "This sucks, you know."
So far, it is a one-way conversation, but that's to be expected. He too, is busy getting his bearings in the new world where he finds himself. I'm sure there are happy reunions going on there, with his dear friends Jason and Steve, his brother Jack and sister Claire. All this spoken in the confusing maelstrom of my mind where I remind myself I don't believe in the afterlife. 
I've begun re-reading Joan Didion's "The Year of MagicalThinking," a powerful book which I finally read last year because while I had thought I'd save it until after Jimmie was gone, I went on a Joan Didion bender and got to that book and thought to myself, "Jimmie is never going to die and I really want to read this book." In the mind of a grieving widow, this equates into "by reading Joan Didion's book I killed my husband." I know how irrational it sounds and I don't at all believe it to be true but I share these inner workings because this process is not unique to me. Millions of people lose loved ones every year. According to Quora, the estimate was 6, 775 per day in the U.S. alone.
Today I returned to work. Wearing a full-fledged head cold. One of my colleagues stopped by at 9:00AM with two boxes of Krispy Kreme donuts, the holiday version, and the classic.  Not that it matters but you may be proud to know that I ate the top left one and then we cycled them down to the shop classroom where they were happily ingested. I'm not sure what the message is when you get two dozen donuts where a box of 6 would have sufficed, but the arrival of the donuts was absolutely a joyous way to start a tough day. So, thanks PGA for reminding me I'm still alive.
The work right now is riding the grief like the wild bronco it is. Arranging my new table top is work for the future, but am inspired by Manny Farber's joyously colored chaotic and richly decorated surfaces. I am also inspired by the way we humans make our way through the headwaters of grief and resurface anew, emotions perhaps rough, but memories intact. And one makes new memories, witnessed below.