It's been a hectic few days. Last Friday, my phone rang and it was Dad's wife's dedicated secretary, calling to say Dad had taken a tumble in the night. Given the 2,292 mile separation from me, I was grateful that there were people to do the heavy lifting beginning with staff member, Juan, who assisted him up off the bathroom floor and to the bed, where he soon had a damp washcloth to staunch the blood from a gash in his right eyebrow.
Despite efforts of the extremely caring and organized household staff, he ended up being admitted to the hospital emergency room around 1:00pm, as a John Doe, or in COVID times, as the 9th John Doe of the day? week? They efficiently organize these unidentified patients by the military alphabet, naming him Trauma Iota. Here's my design for the concert tshirt: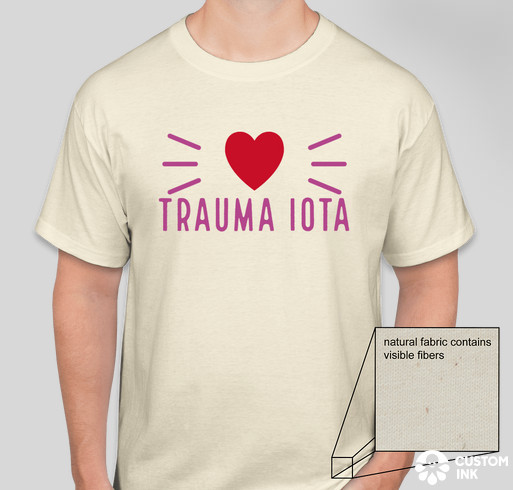 I don't want to linger on the frustrations of having to watch an elderly parent need to go to the hospital during the COVID pandemic, or the inability of any of us to get satisfactory information from the doctors or nurses. Or the humiliation of repeatedly asking to be transferred to "Trauma Iota's nurses' station" by the operator. It was only after he'd already been discharged that the hospital suddenly became vitally concerned about not having his name (after three sets of his vital documents had been either sent along with him, or dropped off by someone at the hospital). The hospital administrator began phoning me, texting me, emailing me, desperate for the details of this mystery man they'd kept overnight and done multiple tests on. Why now? Billing and insurance, of course. I understand that a fall and bump on the head doesn't rank priority in these times. I also applaud their resilience under the circumstances that nurses and doctors are facing and thank them for the care my dad was given. But cheese-o-flip, it's hard to get information, especially when you don't have the patient's name in the system.
My purpose of bringing this all up is because of the brief phone call I had with one of their friends, a remarkable woman named Geri, who reached out, concerned about Dad. She'd dropped by to see my stepmother who remained at home to check in on her. Geri has been friends with Dad and Sally for years, and is currently making plans to decamp from her home of 31 years to hit the road, first accompanying her son south for his return to the states from abroad after 9 years, then heading west to welcome her new grandchild. So she is de-cluttering. When we spoke, I was reminded of her ebullience, her zest for life, and her skill at being a friend. For the past several months, she's brought dinner by on a Sunday for Sally and Dad, and has been a generally supportive distraction during the COVID crisis. Years ago, knowing that I was out here in LA and that Jimmie was doing Endgame at the Kirk Douglas, she and her daughter came to see a performance and lingered backstage to say hello. We should all be so lucky as to have a friend like Geri in our life.
But in our recent discussion about her next steps, she invoked Our Lady of Space. Over the past month, Geri has winnowed her book collection from about 3,000 books to about 300 books. She's getting rid of every stick of furniture in preparation for her next 'footloose and fancy free' phase. She'd recently come across a devotional card which had belonged to her mother, entitled "Our Lady of Space." This card, now 75 years old, is hung nearby to represent the future and her process of removing objects from her life. I love that there's a Saint dedicated to something so intangible. Come to think of it, I guess they all are, really, but the fact that this Saint opens her arms to banish stuff makes her almost an Un-Saint.
I told Geri about the project I'd begun several months ago, clearing the shelves of Jimmie's collection of actor autobiographies and biographies. The box still sits in the space between my dining room nook and my living room and hasn't moved for months. No more books in, no books out. Given Geri's Our Lady of Space inspiration, I may be able to move forward in this project. As we discussed today, the books are not the physical vestige of my husband. They remind me of him, but they are not him. If anything, they represent energy that is stopping me from filling the shelves with what I want to read about now and moving forward. Or not having shelves at all. He would have been delighted to know that they were going to go somewhere where students or other scholars would be able to use them to learn more about his chosen profession. So given that reminder, I can keep packing the box. Lightening the load.
Events like the past days invite introspection about parents and children, the loss of independence and aging in general. When I visited my son and his family over Thanksgiving, I was keenly aware of the difference in our life stages. I in a stage of de-acquisition, Chris and others in his generation adding stuff. I remember when I was early in my thirties wanting things and sometimes getting them, sometimes not. The last thing in the world I would want now is a teardrop trailer, just for example. It feels good to me to be in the later phase. Letting go, passing down, as my Dad likes to say, "sending it downstream." But come to think of it, a teardrop trailer would be good for a hobo phase of life.
We have little to say about the aging process. It happens. We can control diet and exercise, attitude and the disposal of extraneous stuff from our homes and our minds. I'm emptying the drawers without the desire or obligation to fill them back up. Valuing the people and memories in my life rather than the stuff. Feels good.
Speaking of Our Lady of Space, I went to an opening night on Sunday of a play that was performed in five theatres simultaneously! Magic! Can't do that on the ground, friends! I went to the Woolly Mammoth theatre, though the play was a co-pro of Oregon Shakespeare Festival, A.R.T., PlayCo and the Guthrie Theatre. The play, "This is Who I Am" by Amir Nizar Zuabi, directed by Evren Odcikin, tells the story of a father and son cooking a treasured recipe of their dearly departed wife/mother. I'm now convinced that a feature that makes a play cross the screen and touch you is the take away – this play provided the audience with the recipe that they were recreating on stage. The post play reception with representatives of all the theatres was moving as all the participants were credited for what they contributed to the process. I was fascinated when someone alluded to the fact that the character of the son's kitchen was an elaborate set. Wait, what? Here's the video of actor Yousof Sultani constructing the New York kitchen in his garage. Pretty cool. This raises the stakes for us producing virtual stage productions.
The aftermath of This is Who I Am constitutes a real "refrigerator moment." Tonight after work, I went to the grocery store to get the few ingredients I needed to make the recipe, which I received the day after the play via email. Going to the grocery store is the nadir of my week. I had four items on my list and neglected to buy the yeast. When I returned home, and realized my folly, I texted our family chef, Niki. (who needs a family member who's a plumber? Much more sensible to have someone in the family who can cook)
Hey, Niki! I have this recipe I just went to the grocery store for everything and came home and realized I didn't have yeast. Is there anything I can substitute? I'm too lazy to go back to the store….
Then I shot a picture of the recipe. Waited for the ellipses to form on my phone…
You need yeast.

Haha.
Crap. I was afraid she'd say that. Hmmm. What can I do…. Instacart!!! Now I begin to assemble my list and manage to come up with another 8 items besides the yeast. Mind you, this isn't some rando list of ice cream, potato chips, M&Ms, cookies (all the things my dearly departed husband would fill his cart with when we went to the store and divided to conquer. We would meet up at the checkout stand and I would pretend not to know the guy with the party cart.) No, this was stuff that I really need. Laundry pods, blueberries, YEAST.
I am forced to accept that I seem to have lost executive function when it comes to grocery shopping in this pandemic. Something about putting on the mask and walking into the petri dish that is the grocery store. Like I said – Our Lady of Space, aka Ms. Space Cadet. Or, if I were to be kinder to myself, and I choose to do exactly that – it might have more to do with the fact that I attended meetings all day today from 9AM-6:00PM where I was called on to demonstrate executive function over and over. I was all executed out by 6:00pm.
Thanks to Natividad M, my intrepid shopper, I'm now virtually buzzing around the store in record speed; having recently read an article about how Instacart shoppers are yoked to an almost unachievable metric of speed and accuracy, I always pay close attention when someone is shopping for me. But Natividad is a pro – I haven't ever had my groceries show up 30 minutes early, which is fortunate since it's now going on 9:00 when I start to make my dinner.
The magic of theatre – if you see the show, and then try to recreate the recipe, you'll appreciate how carefully everything was choreographed. The two men, even in the heat of an emotional showdown, barely sullied their kitchens. Here are some photos of what my cooking the same recipe looked like…
This is who I am. A space cadet in the middle of a pandemic, trashing my kitchen to make a theatrical recipe for fteer at 10:00PM at night.
Hey! These are pretty good! Go to the theatre and get a good recipe! Thank you, Our Lady of Space.